In this rolling update, you will find updates relating to the Bluelab Pulse Meter. Use this changelog to stay up to date on software and firmware releases, new functionality and general improvements.
July 2021 - Get more context into plant health with improved Notes
Pulse Notes makes it possible to add quick observations about EC, temperature or moisture level measurements taken with your Bluelab Pulse Meter. With this latest update, we've upgraded the Notes feature by adding the ability to attach a photo to any note. You can also add notes from any measurement screen in the app.
Attach photos to notes
You can now add all the info you need to a new note including a visual reference. Click on the Notes menu item to add a new note, then click Add Image to take a new photo or choose one from your phone gallery.
Use the photo feature to remind yourself to investigate a change in EC, the first signs of pests, or just to remind yourself to fix something in the greenhouse.
Note that photos can only be viewed in the Pulse App and can't currently be exported with CSV.
Add notes from any measurement screen
When you want to attach comments and photos directly to a specific measurement in the Pulse app, you can now click on the new Add Details option from any measurement window. Click into any measurement and you'll see the new option below the range tables.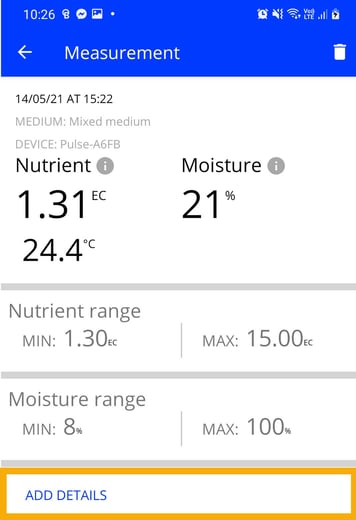 Add a note from the History screen
Now, you can add a general note in the History menu. Before this update, you could add a general note by clicking on a blue pencil icon. By removing the icon, we've streamlined the note-taking process and consolidated it into the Notes menu.
Do you have questions about the Bluelab Pulse Meter? You can either find answers in our Pulse Meter Knowledge Base articles, or, let us know in the comments below, and we'll get back to you.