As part of Bluelab's Future of Controlled Environment Agriculture webinar series, Jono Jones, Chief Product and Innovation Officer at Bluelab talks with a panel of guests from NASA. The webinar delves into the programs that provide access to some of NASA's leading-edge technology and their wider applications for the CEA industry.
In this webinar episode, Jono speaks to:
Jeff Kohler, NASA Technology Transfer Program
Megan Victor, NASA Tech Transfer Office and SBIR STTR* program
Monsi Roman, Program Manager for NASA Centennial Challenges


*Small Business Innovation Research and Small Business Technology Transfer




Listen to the full webinar episode here, and read on for the highlights and key takeaways of our conversation.
Key takeaways
What it takes to grow food in space
Rocket launches and space exploration are what typically come to mind for most when we think about NASA. As the global leaders in space exploration, they are a diverse hub of innovation where a remarkable amount of technology is being developed to push the boundaries of space technology that will benefit both future exploration and life on Earth.

One of the areas being innovated at NASA is sustainable food systems for growing in space—and nothing can be more resource-restricted than a space environment. Below are some of the solutions NASA are working on.
NASA Technology Transfer Program
NASA runs an agency-wide Technology Transfer Program where any technology developed by researchers and engineers is reviewed for commercial potential and is made available to the public via a patent licensing program, thus sharing the benefit of the discoveries to the public.
The first vertical farm in the U.S. laid a foundation for expanding the CEA industry. NASA publications and NASA-funded studies by universities proved that controlled environment farming was possible and provided critical data for a viable commercial industry.
Using NASA technology for CEA
NASA has explored several techniques that have applications in CEA to help support efficiency.
Passive Porous Nutrient delivery system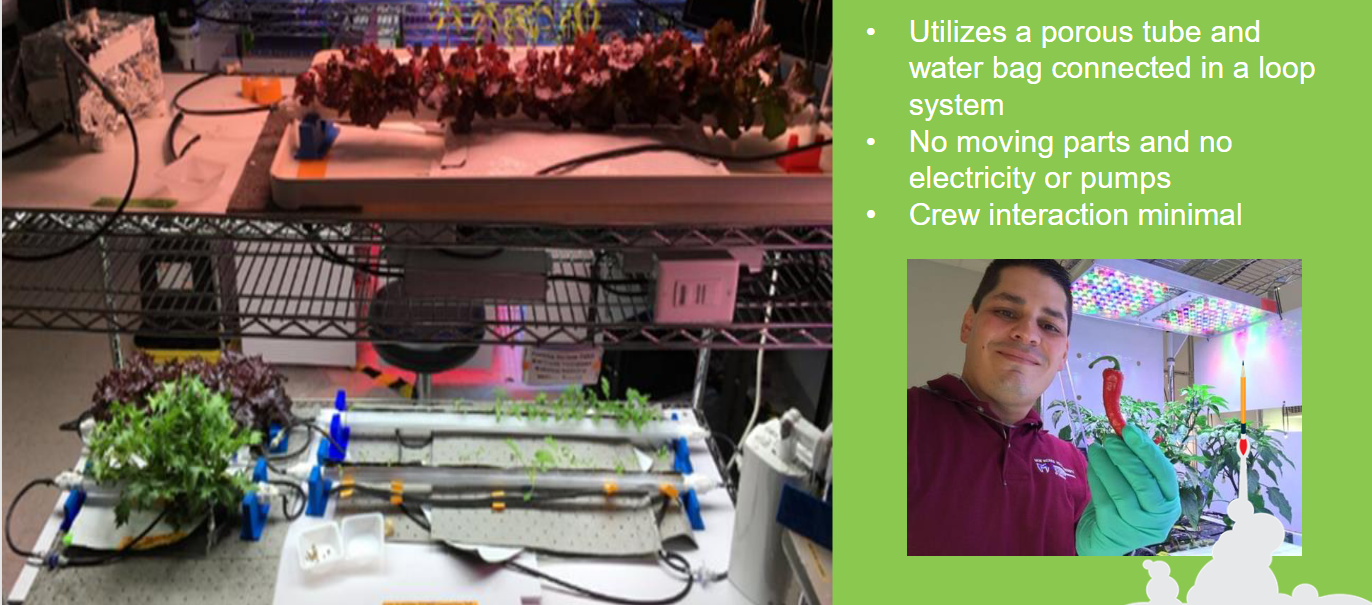 A low-resource plant feeding system that requires no electricity or moving parts. Works by priming and pumping a syringe that uses a pull-through capillary action to feed the plant roots in a porous tube.
Electrostatic aeroponics sprayer

Developed to coat plants with water and nutrients for the space station. Provides 90% coverage within a 10 to 14-inch region. Current interest by a company to coat small fruit items such as grapes.
SPEARS technology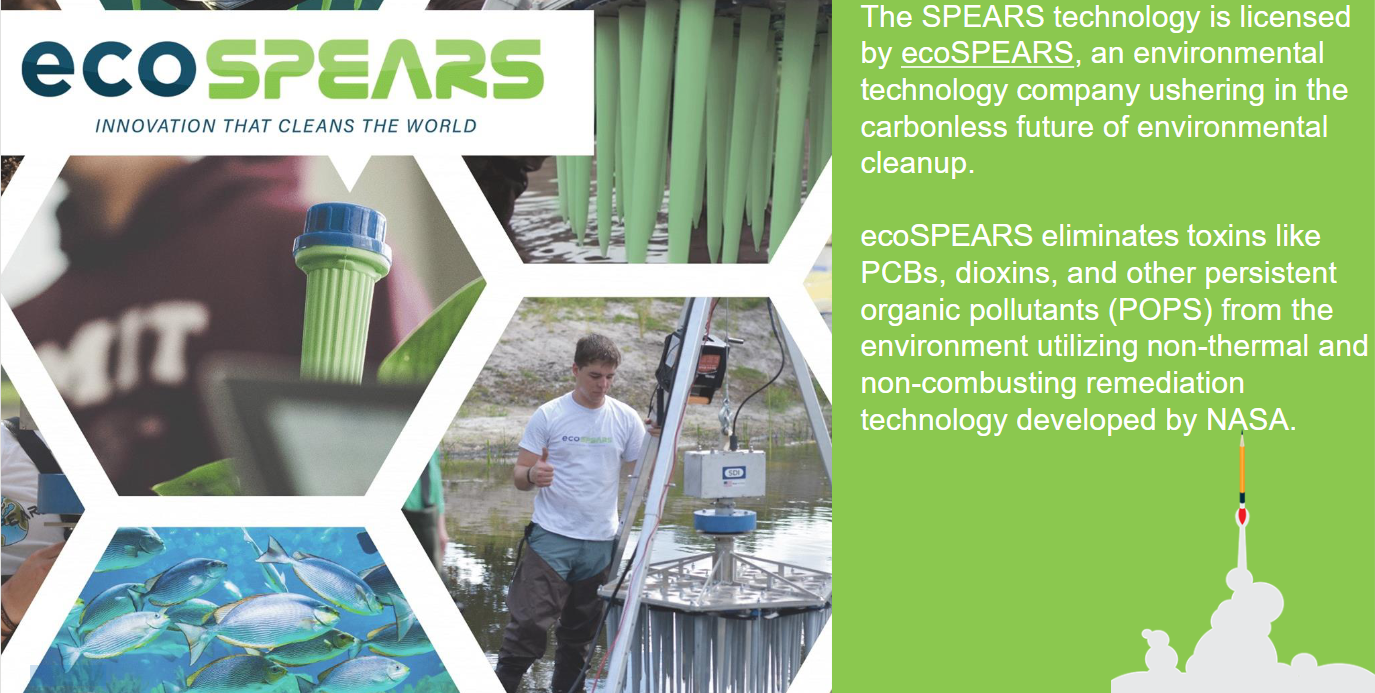 A remediation technology developed by NASA and licensed by ecoSPEARS, which is a plastic spike that's filled with a solvent that would attract PCBs from soils and sediments to clean water.
NASA funding opportunities for entrepreneurs and start-ups
NASA offers funding programs Small Business Innovation Research (SBIR) and Small Business Technology Transfer (STTR) as a potential pathway to help fund the development of innovation that meets NASA's needs and has potential for successful commercialisation.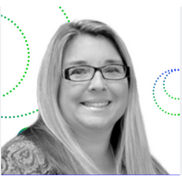 "SBIR and STTR enable small businesses to explore their technological potential and provide the incentive to profit from them and the commercialization. In 2020, we awarded $51 million to 312 small businesses from 44 states across the country, and research institutions"
—Megan Victor, NASA Tech Transfer Office and SBIR, STTR program
SBIR and STTR programs are broken down into three phases. The diagram below outlines the phases with the amounts awarded for each.
"Our overall goal is we would like to graduate all of these awardees to our phase three. We would like to see their innovative technologies, products and services make their way to National NASA missions and into the commercial marketplace"
—Megan Victor
CEA projects with awarded funding
In 2021, five projects under the subtopic of space exploration plant growth were awarded funding. These included:
Compact Ethylene Monitor for NASA Space Missions
In-Space Plant Nutrient: Acicular Surface Modified Polymers for Aiding Faceted Sodium Chloride Separation from Urine
A Smart Spectral Polarimetric Imager for Autonomous Plant Health Monitoring
Spectroscopic System for the Accurate Determination of [O2], [CO2], d18O-O2, and d13C-CO2 in Plant Chambers
Real-Time Ethylene Monitor for Plant Growth Management


Success story—a rice growth monitor
The company Applied GeoSolutions is one success story with SBIR funding. They developed a technology called Rice Decision Support System (Rice DSS) to monitor rice production in real-time by leveraging the satellites that are already in orbit. This allows farmers to develop crop management plans, and on a larger scale determine the risks to this global food staple.
NASA Centennial Challenges
NASA Centennial Challenges is a way of incentivising the public to come and help us field technology gaps in all kinds of areas.
In these challenges, the public generates innovative solutions to problems of interest to NASA. The Centennial Challenges consist of eight challenges, and one of those is the Deep Space Food Challenge.
Better food for astronauts in space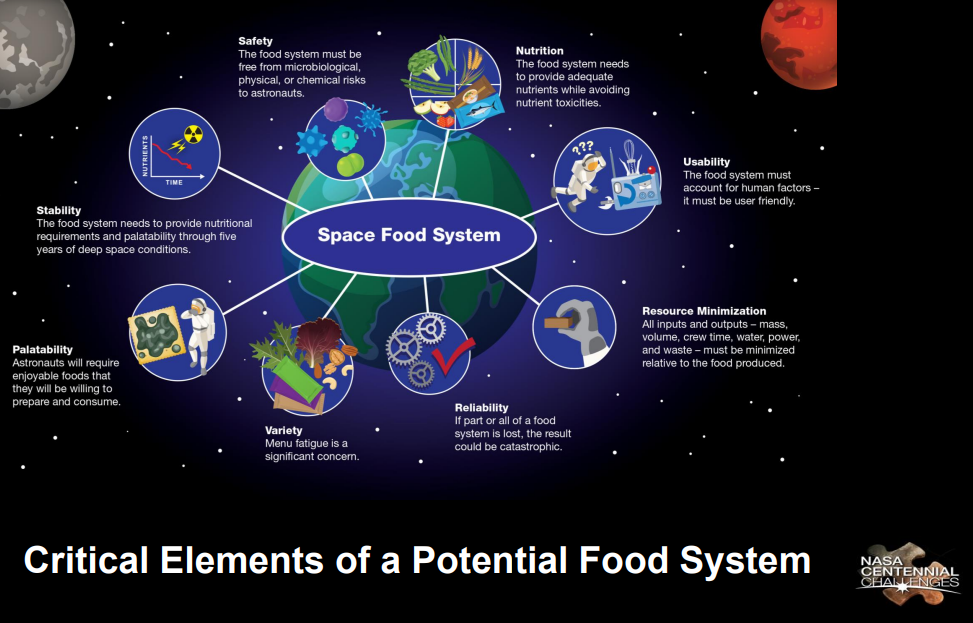 The critical criteria for any submissions made to the Deep Space Food Challenge
The Deep Space Food Challenge is aimed at providing astronauts food in space by innovating sustainable food production technologies or systems that require minimal resources and waste. The food produced must be safe, have nutritional value, have stability so excess can be stored, and it must taste good.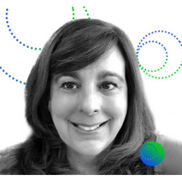 "Our competition is a little bit different than other competitions in the past in that we're also looking for something that tastes good. We're not only addressing the need of the astronaut by nutrients"

—Monsi Roman, Program Manager for NASA Centennial Challenges


The food solutions in this challenge will also benefit life on Earth as they pave new pathways for food production in areas that are subject to extreme environments or resource-limited regions. For this particular space food competition, Centennial Challenges has partnered up with the Canadian Space Agency and collaborating with the Methuselah Foundation and Institute for Competition of Sciences.
Interchange for the global audience
NASA's goal is to bring its technology out to the public, although the technology and licensing programs are primarily marketed for the US, there are avenues for the international audience. NASA can license outside of the USA as long as there is a commercialization plan that benefits both the US and other countries around the world, it is possible.
The plant processing lab at the Kennedy Space Centre reaches out to the CEA industry within the US and internationally in the search for the best technology that can be applied to their development in supplying food in space, including in low gravity.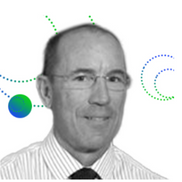 "[We have a] microgravity lab that does testing for different devices to grow plants in space. They're going to publish a lot of the innovations they've developed there and seek input on that. So, there is a lot of interchanges and the ability to reach a global audience."
—Jeff Kohler, NASA Technology Transfer Program
What's next for NASA and CEA?
Astronauts won't have the luxury of soil on long space flights, so NASA is heavily researching CEA recipes of light, nutrients and environment to enable year-round harvesting of fresh produce that meet strict criteria.
As NASA continues to make advances in CEA through experimentation, the whole industry stands to benefit.
Learn more in our full webinar by clicking the image below.